Thirteenth Colony Distilleries Southern Bourbon
I am in the fortunate position to try a lot of whiskey each year.  Often times I find that there are so few brands I haven't tried that it becomes a bit tougher to find something new to review. Today breaks that mold with ease. Prior to their outreach, I had never heard of Thirteenth Colony Distilleries in Americus, Georgia. Needless to say, I was a little scared and a lot excited to dig into a new brand and see what they're up to. Let's dig in and have a look at Thirteenth Colony Distilleries bourbon.
Looking to connect? I'm on Instagram or you may reach out to me via Email or Discord if you'd like to discuss bourbon, request reviews, or anything else.
First thing's first–I would be remiss if I didn't mention the familiar bottle design (looking at you, Birthday Bourbon).  Moving on from the bottle itself, I want to discuss the labeling here, as there are a few points that I feel like could use some attention.  Fair warning, this is going to get into the nitty gritty details that the seasoned whiskey enthusiast cares about, but may not be as consequential to the casual consumer.
We can see that this is labeled as "Southern Bourbon Whiskey", which makes sense as Thirteenth Colony is located in Americus, Georgia; however, it lacks a designation that–according to their website–it qualifies for.  I am, of course, talking about the designation of straight bourbon.  In looking through the FAQ page of their website we see the following:
Q: Are all 13th Colony aged spirits considered "Straight"?

A: Yes, all 13th Colony aged products are aged a minimum of 4 years and follow all guidelines to be considered a Straight Bourbon/Whiskey.

Q: Does 13th Colony use any additional additives, color or flavor?

A: No, 13th Colony does not add additives, coloring, or flavorings to our products. Yes, our Double Oak Bourbon is naturally that dark. Thank South Georgia weather for that!
I appreciate that they took the time to include this information on their website as plenty of brands don't share this.  Tying into the questions about the whiskey, the back label tells us it is 'Produced and bottled By Thirteenth Colony Distilleries' in Americus, GA which isn't exactly clear to the consumer if the entirety of the whiskey in the bottle was, in fact, distilled at (and by) the distillery in Georgia.
I reached out to Thirteenth Colony for clarification on this point and was informed that due to rapid growth of the brand they are using contract-distilled whiskey in addition to what they are distilling themselves.  I think this point is also fair, and can be found again in their FAQ.
Q: Do you distill your spirits?

A: Yes, Graham Arthur is our master distiller, and he does distill our spirits. We are proud to use local ingredients and our specialty finishes to cultivate flavor. We also source our specific mash bill from a contract distiller to supplement the volume needed to meet demand. 100% of all our barrels are aged in our warehouse and go through our specialty finishing processes, as we believe that is a huge differentiator to our flavor profile.
All in all I feel satisfied with these answers, but at the same time I feel like it would just make sense to include this information on the label so enthusiasts don't need to track it down on their website.  As always, we enthusiasts want all of the information right there in front of us.
As this brand grows I will keep an eye out for a bit more clarity and transparency on the labels, but for now I'd say it's time to pour the bourbon and talk about the most important feature: the taste.
Tasting Notes…
Nose – Light oak and big sweet caramel. A lot of traditional bourbon notes stand out like oak char, toasted sugar, and a dash of fruit.
Taste – Coats the palate nicely and brings a wave of sweet desserty bourbon forward. I feel like this reminds me a bit of a caramel ice cream sundae with a cherry on top. There are nice background notes of oak and fruit that I'm enjoying, and even a good dash of spice in there to round it out.
Finish – A medium finish overall.  This moves from big sweet notes into a more rounded oak and spice finish.
Final thoughts…
Again I find myself pleasantly surprised by a brand that is totally new to me.  While the history of 13th Colony Distilleries is certainly extensive, their modern existence is so small and homegrown that I doubt I'd have ever seen their products on my own. Hopefully you've found this review a bit helpful as well as fun. It's always exciting to see a brand making good bourbon continue to expand their footprint.
I'd certainly say this a brand to keep an eye on, especially if you're in the Southeastern United States (or if you shop on Seelbachs at all). Thanks for reading along. Cheers!
Be sure to subscribe to the Whiskey Raiders Podcast to hear Jay and myself sip 13th Colony bourbon and rye and share our first impressions
The Bourbon Finder & Weekly Whiskey thanks 13th Colony Distilleries for graciously providing us a sample of their product and the images used in this post. Being able to try new things in the whiskey space, without strings attached, is an opportunity we greatly appreciate. Per our review ethos, we provide objective reviews and commentary on media samples of spirits and products; remember, friends, these are the good old days of whiskey!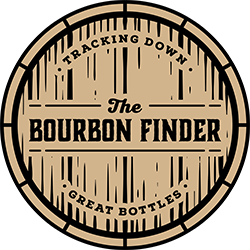 Our grading system: As mentioned in our About Us page, we're excited to share bourbon with our friends, family, and readers. There are enough critics, cynics, and curmudgeons in the whiskey world as it is, so our goal is to foster the bourbon community in a positive way by bringing fun and entertaining content whenever possible–as such–we decided that applying precise scores to whiskey was simply too serious for us (and didn't accurately showcase variability in taste from day to day). We use a simple grade school system to apply a grade to the whiskeys we review because we feel it is indicative of the whiskey's grade for us on that particular day. A grade of a "B" today may very well be a "B+" or even a "B-" on another day, so rather than focusing on a precise score today that may not stand the test of time, we are just sharing our overall grade of that pour for that one tasting. Pour a bit and enjoy, friends, these are the good old days of whiskey!