Ben Holladay Bottled in Bond Missouri Bourbon
Does bourbon need to be made in Kentucky? No, of course not. As discussed in a previous post bourbon must be made in the United States; however, this regulation is often conflated, and mistaken to the point that many folks believe bourbon must be made in Kentucky (which is simply not true). As long as you're making your bourbon inside the United States (and following recipe, distillation, and proof laws) you're good to go. We're reminded of that in today's review of Ben Holladay bourbon, which comes as a six year bottled-in-bond bourbon from Missouri. That's right, Missouri! I have nothing in my catalog to compare this to, or even to get a baseline on what type of flavor profile to expect from this bottle…so I guess there's only one thing left to do. Let's try it!
Looking to connect? I'm on Instagram or you may reach out to me via Email or Discord if you'd like to discuss bourbon, request reviews, or anything else.
Recently I've had the good luck of finding new brands that were previously unknown to me. A recent review of Luca Mariano brought some tasty whiskey that I had otherwise not known, and this week I'm sharing yet another newcomer.
Ben Holladay arrived on the scene to release their six year bottled-in-bond bourbon in a relatively quiet way–which ties into the brand's backstory of Ben Holladay who they describe as being one of the greatest unknown figures of American History.
One of the first things I'd like to do is address the State-sized elephant in the room here. Ben Holladay Bourbon is classified as Real Missouri Bourbon under a 2019 law requiring that any whiskey labeled as Missouri bourbon meet certain criteria identifying it as a true product of Missouri in addition to meeting the federal standards for bourbon.
The exact requirements of the law are fairly straightforward: to be classified as Missouri Bourbon / Whiskey a product must be mashed, fermented, distilled, aged, and bottled in Missouri, as well as aged in oak barrels manufactured in Missouri.
One thing that tends to bite a lot of smaller distilleries is that they lean heavily into the 'buy local' marketing, and don't focus enough on the quality of their product.  I imagine if Ben Holladay can make a consistently delicious whiskey, they will do outstanding business in Missouri, perhaps even becoming something of a state mascot (at least in the whiskey industry).
If you haven't seen the video review we did on Weekly Whiskey YouTube you can find it below. We dig into the details and provide a live tasting of Ben Holladay Bourbon.
In the video you see Jay mention the design of the label and how it has a classic vibe with a modern feel to it.  According to the brand, the label design itself was inspired by founder and serial entrepreneur Ben Holladay, who was known as the "Stagecoach King" for his innovation of and contributions to overland stage travel.
This is what the brand has to say about Ben Holladay bourbon:
"Individual taste is influenced by where you came from and past experiences. It's important to be intentional about how you taste, but be guided by your own perspective. Ben Holladay Bourbon is a quality, balanced bourbon that is authentic and traditional. Try it and let your palate tell the story."

Kyle Merklein, Holladay Distillery Master Distiller
I really like the information provided by the brand. The media package they sent out includes a lot of great talking points (seen above in the YouTube video) but also shares information that the whiskey geek will enjoy.
Speaking of the level of transparency and geeky details, I really like what the label itself tells the consumer about the liquid.  Due to the unique variations of each batch, the Ben Holladay Bourbon label features a blending chart to help distinguish the individual batches and allow consumers to identify the blending process used.
According to the information provided: Ben Holladay Bourbon is aged in a level three, charred, Missouri white oak barrel and is non-chill filtered. It is produced using many of our original methods including a two-grain cooker system, same distillation proofs, and barrel entry proof.
So far I am fairly impressed.  Again, until this bottle landed on the review desk, I had no information about the brand or the product whatsoever.  It may seem like a small point, but a brand that takes the time to provide all of the information to the reviewer (and ultimately the consumer) really stands out.  Let's see how the whiskey holds up!
Tasting Notes…
Nose – Dark, rich, and inviting nose. A touch of spice is noticeable right off, and it's backed up by vanilla and a decent amount of oak.
Taste – Everything you need is right here. I'm talking about red fruits mingled with brown sugar, an oak influence that defines a well-aged bourbon, a small zing of pepper, and then vanilla all come out to party.
Finish – A shorter, but tasty finish. While this doesn't hang on for a long time I would say that everything in the finish really primes the palate for another sip. A soft migration from sweet layered fruits and a proper oak structure fade to a kick of spice on the end.
Final thoughts…
I'm very pleasantly surprised by this. Going into a review without expectation is sometimes a touch difficult with unfamiliar brands or products, but this was certainly a great eye-opener toward Missouri Bourbon.  I'm a buyer.
Personally, I can't wait to see what else comes from Ben Holladay in the future. If they expand their portfolio with more offerings that are appropriately aged (like this bourbon) and at a great price point they will be leaving a big mark on the whiskey world in no time. Thanks for reading along. Cheers!
TheBourbonFinder thanks Ben Holladay for graciously providing us a sample of their product. Being able to try new things in the whiskey space, without strings attached, is an opportunity we greatly appreciate. Per our review ethos, we provide objective reviews and commentary on media samples of spirits and products; remember, friends, these are the good old days of whiskey!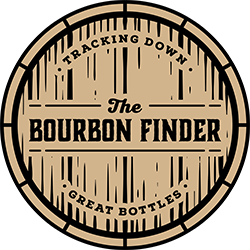 Our grading system: As mentioned in our About Us page, we're excited to share bourbon with our friends, family, and readers. There are enough critics, cynics, and curmudgeons in the whiskey world as it is, so our goal is to foster the bourbon community in a positive way by bringing fun and entertaining content whenever possible–as such–we decided that applying precise scores to whiskey was simply too serious for us (and didn't accurately showcase variability in taste from day to day). We use a simple grade school system to apply a grade to the whiskeys we review because we feel it is indicative of the whiskey's grade for us on that particular day. A grade of a "B" today may very well be a "B+" or even a "B-" on another day, so rather than focusing on a precise score today that may not stand the test of time, we are just sharing our overall grade of that pour for that one tasting. Pour a bit and enjoy, friends, these are the good old days of whiskey!