Blood Oath Pact Number 8
Lux Row rolls out another limited edition in their Blood Oath lineup. The latest Pact in the lineup is a blend of 14, 11, and 8 year rye bourbons that have been blended and finished in Calvados casks. Being a fan of brandy from all different regions (Calvados being one) I'm certainly intrigued to see what Master Distiller John Rempe has created. Let's dig in!
Looking to connect?  I'm on Instagram or you may reach out to me via Email or Discord if you'd like to discuss bourbon, request reviews, or anything else.
Check the video below for the review Jay and I did on Weekly Whiskey.
Considering Blood Oath is now in it's eighth iteration, it's quite possible you've not only heard of it, but have likely tried at least one of these expressions by now.  For folks who may have missed out, I'll briefly cover these limited edition releases from Lux Row.
Each year Master Distiller John Rempe creates a new "Pact" along with the "Oath" to never disclose where the whiskey is sourced from.  The cloak and dagger marketing might make for a bit of mystique around this limited edition product, or it might be something that consumers gloss over.  That's for you to decide.
Each Pact is released at 98.6 proof in accordance to it's Blood Oath theme.  Honestly I don't think the proof has held the product back, so maybe there's more to it than just marketing.
This particular release is finished in Calvados casks.  Calvados is apple brandy from the Normandy region of France, so this release is poised to bring you on a journey from Kentucky to France as it were.  We'll see how it fares in just a bit.
Let's take a look at the press information from Lux Row:
I've once again sourced three great bourbons for Blood Oath Pact 8, and I'm particularly excited to include a bourbon finished in Calvados casks," said Rempe. "The Calvados cask will bring additional tasting notes characterized by slight apple on the nose, with hints of vanilla and cinnamon, as well as flavor notes of ripe apples, juicy pears, butterscotch and even subtle hints of chocolate. Blood Oath Pact 8 is a bourbon I'm proud to share with bourbon lovers, but the recipe is a secret I'll be keeping to myself.

John Rempe, Lux Row Distillers
One thing Blood Oath seems to do every year, and do well, is put together a product that scratches the premium whiskey itch.  With a sharp looking bottle, label, and wooden box, Blood Oath stands out on the shelf.  Does this latest pact stand out in flavor?  Let's find out now.
Tasting Notes…
Nose – Bright and rich.  The Calvados finish shows up, but not as punch of apple to the face.  There's certainly a fruit influence going on that reminds me of the smell of baking pies with a buttery aroma that has some fruit in the background.  The rye spice works with the fruit in a way that–after swirling in a glass–reminds me a bit of hard apple cider (in a good way).  A vanilla and candy note is prominent here, and there's certainly a nice oak influence.
Taste – On the palate this immediately sips like something both familiar and brand new at the same time.  There's a richness to the palate that moves from a well-aged bourbon profile of oak and dark vanilla straight into a brighter note of pear tart, apple cinnamon, and buttery pie crust.
Finish – The finish hangs on for long enough that it's fair enough to call it a long finish, but the layers are more impressive than the time it spends on the palate.  I think the overall balance of the 14, 11, and 8 year liquid in this blend really elevates the profile and allows this great baked dessert note to work very well with a solid oak structure and good bit of spice to really round this out.
Final thoughts…
This Blood Oath Pact is definitely tasty, and unique. While I don't believe it going to be a life-changer, it does what a lot of finished whiskeys don't, and shows the character of the finish without washing out the base spirit.
With about 51,000 bottles of this one being produced (some held back for future multi-pack releases) there's a fair chance you should find one in the wild. As always–I'll remind readers that price is as subjective as flavor–this comes with a $119 SRP–which should place this in the try before you buy column, but I'll be buying this one if I see it on shelves. Cheers!
P.S. my friends at Sticker Mule (where I order my custom single barrel stickers from) have been running a bunch of specials this summer on custom orders. I just snagged more logo stickers myself. Happy shopping!
TheBourbonFinder thanks Lux Row for graciously providing us a sample of their product. Being able to try new things in the whiskey space, without strings attached, is an opportunity we greatly appreciate. Per our review ethos, we provide objective reviews and commentary on media samples of spirits and products; remember, friends, these are the good old days of whiskey!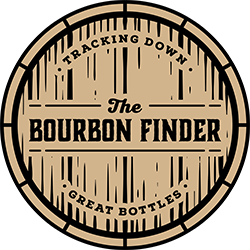 Our grading system: As mentioned in our About Us page, we're excited to share bourbon with our friends, family, and readers. There are enough critics, cynics, and curmudgeons in the whiskey world as it is, so our goal is to foster the bourbon community in a positive way by bringing fun and entertaining content whenever possible–as such–we decided that applying precise scores to whiskey was simply too serious for us (and didn't accurately showcase variability in taste from day to day). We use a simple grade school system to apply a grade to the whiskeys we review because we feel it is indicative of the whiskey's grade for us on that particular day. A grade of a "B" today may very well be a "B+" or even a "B-" on another day, so rather than focusing on a precise score today that may not stand the test of time, we are just sharing our overall grade of that pour for that one tasting. Pour a bit and enjoy, friends, these are the good old days of whiskey!