135th Anniversary Four Roses Limited Edition Small Batch
This particular bottle is one that many in the bourbon enthusiast crowd wait for year after year.  Four Roses Limited Edition Small Batch is a bit of a clunky name, but is almost always guaranteed to be one hell of an expression.  These limited edition releases change in both age and proof each year, but one that that never changes is that they are non-chill filtered and crafted from Brent Elliot's favorite barrels to create something original and outstanding each year.  How does this year's stack up?  Let's dig in and find out.
Looking to connect? I'm on Instagram or you may reach out to me via Email or Discord if you'd like to discuss bourbon, request reviews, or anything else.
Let's begin by breaking down Four Roses bourbon.  It can be somewhat confusing to the more casual consumer, and we can clear some of that up rather quickly by discussing the Four Roses bourbon recipes.
In their own words Four Roses "combines two mash bills with five proprietary yeast strains to create ten distinct bourbon recipes".  So they create two mash bills (grain combinations) from corn, rye, and barley respectively–and title them as 'Mash Bill B' and Mash Bill E'.
Mash bill B is a 60/35/5 blend of the aforementioned grains, while mash bill E is 75/20/5.  The mash bill of any particular Four Roses product will be denoted as OB (for mash bill B) or OE (for mash bill E) with the "O" describing the production facility (Four Roses Distillery).
Now for a brief catch-up on the Four Roses yeast strains, and how they tie into the taxonomy of products.  Four Roses utilizes five different yeast strains to highlight different flavor profiles of the finished product.  The strains are labeled as V, K, O, Q, and F.
Each yeast strain will be identified with the letter S followed by the particular strain afterward (read: SV, SK, SO, SQ, or SF).  When combined with the mash bill (OB or OE) we will see an end product in an OXSX format.  See below for a breakdown of the ten recipes and their unique flavor profiles.
1 OBSV
DELICATE FRUIT AND RYE
2 OBSK
RYE AND BAKING SPICE
3 OBSO
RICH FRUIT
4 OBSQ
RYE AND LIGHT FLORAL CHARACTER
5 OBSF
DELICATE RYE AND MINT
6 OESV
DELICATE FRUIT AND CARAMEL
7 OESK
BAKING SPICE
8 OESO
RICH FRUIT AND VANILLA
9 OESQ
DELICATE GRAINS AND FLORAL CHARACTER
10 OESF
LIGHT GRAIN AND MINT
The 2023 Four Roses Limited Edition Small Batch bourbon is comprised of four recipes ranging from twelve to twenty five years old.  Here is what Four Roses has to say about the recipe breakdown in this year's limited edition release:
A 12-year-old and a 16-year-old OESV recipe, which features notes of delicate fruit and caramel; a 14- year-old OESK recipe, with notes of baking spice; and a 25-year-old OBSV recipe that boasts delicate fruit and rye flavors.
As mentioned in the intro, each year Master Distiller Brent Elliot (pictured below) combs through the multitude of barrels, recipes, and flavors to create a blend that will ultimately end up as the years Limited Edition Small Batch.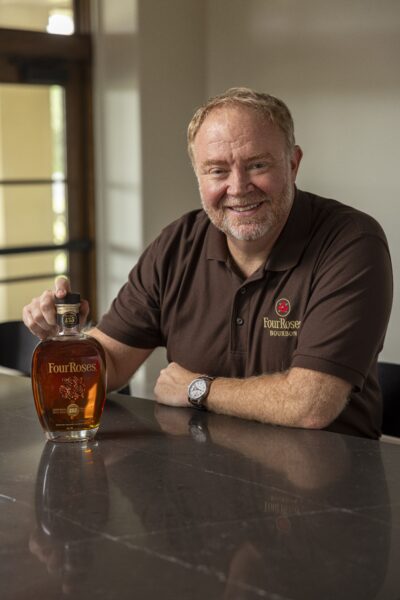 I find myself getting pretty antsy to share tasting notes, but I'd like to briefly highlight what Brent Elliot had to say about this year's blend and the purpose of each component in it. Then, I promise, we'll get to the tasting!
This release celebrates 135 years of meticulously crafted, high quality bourbon, and I'm excited to hear what our devoted consumers have to say about it. In crafting this blend, I wanted to create an elegant bourbon worthy of the brand's heritage. Each of the 12-, 14-, and 16-year-old batches possess individual characteristics that complement each other perfectly. Once the ideal balance of these three batches was achieved, I looked at several other batches of various ages and recipes to add an extra layer of nuance to the blend. Ultimately I selected the 25-year-old OBSV, which melds perfectly with the other batches and adds additional complexity and depth.
This sounds exiting and delicious on paper, but to be totally honest I'm concerned with where the rubber meets the road or–perhaps more appropriately–where the liquid meets the lips.  Whichever's funnier.
Tasting Notes…
Nose – Rich and nuanced.  Layers upon layers that take some time to dissect.  Boozy oak, rich barrel char, a medley of fruits, dark rye and baking spice.
Taste – This washes gracefully over the palate and hits me with a wave of sweet oak and caramel initially.  Vanilla and red fruits throughout the palate, almost a dash of cotton candy, and then background of spice cake with cinnamon icing.
Finish – A long finish to be sure.  As the oak layers fade I find this bouncing back and forth between a fruity and spicy finish that's pretty unique and really enjoyable.  Just when I think the baking spice (notably cinnamon) is going to be the last detectable tasting note, a fruity red berry note shows back up at the end that reminds me of a mixed berry pie.
Final thoughts…
This is really an impressive pour of bourbon, there's no doubt about it.  I really feel like the twenty five year bourbon component shows up in the 2023 Four Roses Limited Edition Small Batch bourbon, and it brings the lighter fruits and sweet layers together with a strong and sturdy oak structure.
It likely goes without saying on a release such as this, but it will most likely fall into the category of buy on sight for most bourbon enthusiasts.  Simply put: this is a top notch bourbon.  Thanks for reading along.  Cheers!
Be sure to subscribe to the Whiskey Raiders Podcast to hear Jay and myself sip this Four Roses Limited Edition Small Batch bourbon and share our first impressions.
Photos courtesy of Four Roses Bourbon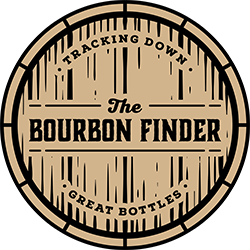 Our grading system: As mentioned in our About Us page, we're excited to share bourbon with our friends, family, and readers. There are enough critics, cynics, and curmudgeons in the whiskey world as it is, so our goal is to foster the bourbon community in a positive way by bringing fun and entertaining content whenever possible–as such–we decided that applying precise scores to whiskey was simply too serious for us (and didn't accurately showcase variability in taste from day to day). We use a simple grade school system to apply a grade to the whiskeys we review because we feel it is indicative of the whiskey's grade for us on that particular day. A grade of a "B" today may very well be a "B+" or even a "B-" on another day, so rather than focusing on a precise score today that may not stand the test of time, we are just sharing our overall grade of that pour for that one tasting. Pour a bit and enjoy, friends, these are the good old days of whiskey!