John J. Bowman Single Barrel
The A. Smith Bowman distillery has landed on my radar, and one product from their portfolio in particular was recommended to me by someone I trust (at least to a certain degree…*cough* Joel). After the first bottle disappeared in rather short order, it was obvious we needed two things: more John. J Bowman, and a full review of the product for the website. With a new bottle in hand, it's time to have a look!
If you're a whiskey geek who spends their time listening to podcasts like Bourbon Pursuit, or reading up on Reddit, or whiskey blogs such as this very website, there's a great chance you know a bit about Bowman's distillate and that it is–at least in part–from Buffalo Trace. Having a separate brand outside of the Buffalo Trace Distillery utilizing their distillate opens some doors for a lot of conversation in terms of what the product tastes like, what it compares to, and the relative value. Checking out Bowman's website we read:
Our John. J. Bowman Bourbon commemorates the great, great uncle of Abram S. Bowman, who founded A. Smith Bowman Distillery. We hand select some of the oldest barrels in the warehouse to produce a single barrel bourbon with hints of toffee, leather, figs, and almonds. John. J. Bowman was awarded World's Best Bourbon in 2017.

asmithbowman.com
So while they don't go into detail on the mashbill, aging, or distillate in any way–we're given some history on the brand and this particular expression from their portfolio. I guess the rest is up to us to determine on our own. Let's grab a pour…
Tasting Notes…
Nose – Sweet caramel apple and vanilla. The apple is totally reminding me of Buffalo Trace's mashbill #2, and there's even a light touch of dark stone fruit in there. Pretty nice bouquet really.
Taste – Oh it's good. Mouthfeel is medium–I guess that's a nice way of saying it doesn't stand out in any way (good or bad). Heat is aligned perfectly with the rest of the palate. A little oak and caramel mixing with the fruit.
Finish – Hangs around for a bit before fading nicely with some vanilla and even a touch of spice. Not a strong spicy note, just a touch of fleeting rye in there. It balances nicely…and has me really curious what a barrel strength version would do.
Final thoughts…
What I find unique about the John J. Bowman product is how it could absolutely pass for a Buffalo Trace product in a blind, or how it could end up seeming to be it's own entity. The slightest bit of confirmation bias could have a blind taster believing they are sipping Blanton's if you poured this for them…which is neat to think about, although I'm not crazy about the implications that could have, especially with the hype following the horse-topped bottles these days. These single barrels are also priced great, and so far seem to be extremely consistent in terms of profile and quality. If you're kicking around Virginia I recommend stopping in to get your hands on a few bottles of this one.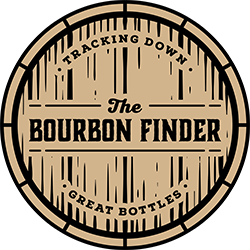 Our grading system: As mentioned in our About Us page, we're excited to share bourbon with our friends, family, and readers. There are enough critics, cynics, and curmudgeons in the whiskey world as it is, so our goal is to foster the bourbon community in a positive way by bringing fun and entertaining content whenever possible–as such–we decided that applying precise scores to whiskey was simply too serious for us (and didn't accurately showcase variability in taste from day to day). We use a simple grade school system to apply a grade to the whiskeys we review because we feel it is indicative of the whiskey's grade for us on that particular day. A grade of a "B" today may very well be a "B+" or even a "B-" on another day, so rather than focusing on a precise score today that may not stand the test of time, we are just sharing our overall grade of that pour for that one tasting. Pour a bit and enjoy, friends, these are the good old days of whiskey!