New Riff Balboa Rye
When New Riff announced the pending release of their Balboa Rye, I cashed in a favor with a friend in Kentucky to collect a bottle for me just to have some new rye to check out, seeing as how I'm a big fan of rye in general. Little did I know this particular expression from the up-and-coming distillery in Northern Kentucky would garner so much attention in the weeks and months to follow. Let's have a look!
Four years in the making, the Balboa Rye release from New Riff is a throwback grain from the 1940's that (according to the distillery) has not been distilled in decades I don't know if the goal was to try something new, to spin off the hype for dusty whiskeys, or just to build a new proprietary mashbill; however, I'd say there's a chance they've done all of the above and more. This 100% rye whiskey (95% heirloom Balboa Rye and 5% malted rye) is the product of a family farm in Indiana growing a very specific grain for New Riff. In today's whiskey world, there is so much experimentation with grain and mashbills that almost nothing would surprise me. New Riff's tagline says they are a "New Riff on an old tradition" and I think this release may be the perfect embodiment of that. From the New Riff Distilling website:
We are independently owned by one family, and that independence, the freedom from outside pressures and interests has allowed us to make an unforeseen declaration for quality: for perhaps the first time since the inception of the Bottled in Bond Act in 1897, a Kentucky sour mash whiskey distillery has committed itself exclusively to that quality standard, the world's highest. And we proudly lift that bar even higher by bottling without chill filtration. We stand behind this combination of classic American entrepreneurship and ingenuity; passion and knowledge born from one of the world's great spirit regions; and a talented team individually committed to doing things the right way.

newriffdistilling.com
With such limited production and distribution on this (New Riff Club members getting first crack at a 2-per-person limit, then small distribution in Kentucky) it's pretty exciting to have a bottle sitting on the bar at TheBourbonFinder HQ. Let's dig in!
Tasting Notes…
Nose – Autumn wildflower honey (yes, I'm that much of a honey geek). A fruity floral note that blends into a sweet vanilla and works very nicely with the honey. Nice rye background in there.
Taste – Medium mouthfeel (actually a little heavier than many ryes), sweet caramel and honey working with the rye spice. Fruity and complex. Man, this is impressive stuff. Not sure if the Balboa Rye grain is the difference here or not, but it's really good and brings a bunch of sweetness to the sip.
Finish – This one goes deep. Nice long finish where the sweetness and spice just take turns on center stage before ultimately allowing the rye spice to take over. Enjoying this for minutes after the sip.
Final thoughts…
It is by no means a secret that this bottle has received some rave reviews. While it's not going to change your life, it's absolutely a great pour. Something I'm happy to have on the bar, and I break out for occasions where I'm sitting down with someone who truly appreciates rye whiskey. If you're looking to hear a little more about the New Riff Balboa, I sent some to Eric from Bourbon for the Masses in our YouTube Livestream Blind Rye Tasting.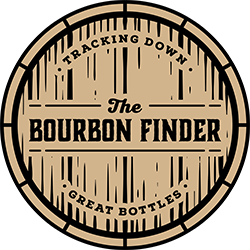 Our grading system: As mentioned in our About Us page, we're excited to share bourbon with our friends, family, and readers. There are enough critics, cynics, and curmudgeons in the whiskey world as it is, so our goal is to foster the bourbon community in a positive way by bringing fun and entertaining content whenever possible–as such–we decided that applying precise scores to whiskey was simply too serious for us (and didn't accurately showcase variability in taste from day to day). We use a simple grade school system to apply a grade to the whiskeys we review because we feel it is indicative of the whiskey's grade for us on that particular day. A grade of a "B" today may very well be a "B+" or even a "B-" on another day, so rather than focusing on a precise score today that may not stand the test of time, we are just sharing our overall grade of that pour for that one tasting. Pour a bit and enjoy, friends, these are the good old days of whiskey!