Old Fitzgerald 9 Year (Spring 2020)
Coming at you today with another glorious decanter of Old Fitzgerald.  This is the 9 year release from the Spring of 2020.  Let's peel the tax strip, pop the top, and dig in to see what this fancy bottle contains.
The Bottled in Bond Decanter series rolling out of Heaven Hill's distillery is nothing short of stunning in terms of presentation.  This is a bottle you can easily spot from across the bar or restaurant and recognize for what it is: a premium whiskey.  Premium whiskey comes with a premium price, and the Old Fitzgerald 9 year is no exception in that regard.  Sadly, Heaven Hill's website doesn't include any updates for 2020 to describe the 9 Year Bottled in Bond release; however, they do describe the product line itself:
Each spring and fall, a new edition to the Old Fitzgerald Bottled-in-Bond series is released. Inspired by an original 1950's Old Fitzgerald diamond decanter, the packaging and series honor both the history of the Old Fitzgerald brand and the historic Bottled-in-Bond designation. The Old Fitzgerald line is well-known for its distilling pedigree, as the brand was first registered in 1884 and was eventually sold to "Pappy" Van Winkle during Prohibition. In 1999, Heaven Hill bought the brand and began distilling it at Bernheim Distillery in Louisville, KY.
Having tried the 13 year release before, and having reviewed the 15 year Old Fitzgerald here, I was absolutely excited to get my hands on the 2020 9 year and compare.  Let's dig in!
Tasting Notes…
Nose – Dark and sweet.  I wouldn't describe it as incredibly complex, but it has everything a bourbon drinker is looking for here.  Some rich oak and caramel mix with a hint of fruit.  It's indiscernible fruitiness is balanced pretty well with vanilla and brown sugar.
Taste – This hits the palate very cleverly…and I'm not totally sure what I mean by that, but it came to mind immediately.  While this didn't ooze of complexity on the nose, there's a good amount showing up on the palate.  A nice layer of sweet caramel and a buttery note hits me.  Not quite a buttery waffle, but not unlike it either.  Sort of walking down the dessert buffet for ice cream toppings here with caramel, chocolate, butterscotch, and fruit syrups.  It's not overly sweet, either, just a mixed-bag of treats.
Finish – This finish rolls quite a while, and with plenty of flavors.  The caramel, vanilla, and even hints of cocoa take turns dancing with fruit.  The oak becomes evident again, and hangs out for quite a while without being drying or tannic for me.
Final thoughts…
I dig this one.  While the 13 year I tried a few years ago felt imbalanced and hot, this 9 year is well under control–both in terms of flavor profile and heat.  I think it's interesting how, in a Bottled in Bond product line where each bottling is 100 proof, there can be so much variance in the perception of heat…but I suppose that's the beauty of an aged, batched, and proofed bourbon.  Each year new releases of the Bottled in Bond Decanter Series make their way out of Heaven Hill, and if the quality stays the course, I don't see a reason to stop scooping these up.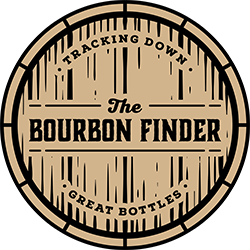 Our grading system: As mentioned in our About Us page, we're excited to share bourbon with our friends, family, and readers. There are enough critics, cynics, and curmudgeons in the whiskey world as it is, so our goal is to foster the bourbon community in a positive way by bringing fun and entertaining content whenever possible–as such–we decided that applying precise scores to whiskey was simply too serious for us (and didn't accurately showcase variability in taste from day to day). We use a simple grade school system to apply a grade to the whiskeys we review because we feel it is indicative of the whiskey's grade for us on that particular day. A grade of a "B" today may very well be a "B+" or even a "B-" on another day, so rather than focusing on a precise score today that may not stand the test of time, we are just sharing our overall grade of that pour for that one tasting. Pour a bit and enjoy, friends, these are the good old days of whiskey!