Penelope Founder's Reserve Light Whiskey
Here's a non-bourbon review that should be quite fun.  Penelope Bourbon, a brand launched in New Jersey, has historically released offerings ranging from a straight bourbon to toasted barrel finish, to a rose cask finish.  That's right.  Rosé…and bourbon.  Never thought I'd be putting those two words in the same sentence, but here we are.  While today's review isn't a cask-finished product, it still should prove to be an interesting one.  A small batch (31 barrels) of 13 year light whiskey that is uncut, so it's coming in at 128.4 proof.  How does it taste?  Let's find out!
Looking to connect?  I'm on Instagram or you may reach out to me via Email or Discord if you'd like to discuss bourbon, request reviews, or anything else.
Jay and I haven't released a video review of this new Founder's Reserve just yet, but I want to share a video on a product from Penelope Bourbon that's really fun and unique.  We reviewed the Rosé Cask Finish from Penelope a while back on Weekly Whiskey and I think they really nailed that product.  How does today's review stack up?  Let's dig in.
This review is the first product to roll out in the Founder's Reserve line from Penelope.  The press release hints that there will be future releases within this Founder's Reserve line, so I'm already excited to see where they go with that.
Here is a peek at the press info from Penelope Bourbon:
Penelope Bourbon Founders Reserve showcases rare and unique barrels we were fortunate enough to find. The first release in this series highlights a collection of American Light Whiskey barrels distilled from corn at Seagrams Indiana in 2008. Aged in 2nd fill oak barrels, this amazing spirit brings out savory vanilla notes with a hint of cinnamon and creme brûlée.  This 13 year old American Light Whiskey is bottled at cask strength.

Penelope Bourbon

Product notes:
• Aged 13 years in second fill bourbon barrels
• Limited Release of 31 barrels
• 99% corn mash bill
• Distilled at 189.5 proof and put in the barrel at 160 proof
• Un-cut and Non Chill-Filtered
Tasting Notes…
Nose – Rich and sweet.  I almost don't even want to say it because we say it enough on Weekly Whiskey, but there is a real waffle cone vibe to this pour.  Dammit.  There, I said it.  Background notes of vanilla, and heavy butterscotch come through as well.
Taste – Brown sugar, creamy brown butter, vanilla bean ice cream and a nice pile of butterscotch.  Not incredibly complex but everything it does, it does nicely.
Finish – Fairly long, albeit two dimensional.  The mildly savory butter and waffle cone notes mingle with the butterscotch and brown sugary sweetness in a way that works nicely.
Final thoughts…
What can I say, except…I dig it.  You thought I was going to say "You're welcome!" didn't you?  Anyway, this scratches the itch for anyone looking to diversify a bit from bourbon or rye.
It won't come as a surprise to anyone who has dabbled with other light whiskey offerings that this product isn't super complex, but it hits those ice cream shop desserty notes very nicely.  Over the last two years I have found myself reaching for non-bourbon pours like this more and more frequently as a great way to mix things up and dive into interesting corners of the whiskey world, I hope you do the same and you let me know what you think about those pours.  Cheers!
TheBourbonFinder thanks Penelope Bourbon for graciously providing us a sample of their product. Being able to try new things in the whiskey space, without strings attached, is an opportunity we greatly appreciate. Per our review ethos, we provide objective reviews and commentary on media samples of spirits and products; remember, friends, these are the good old days of whiskey!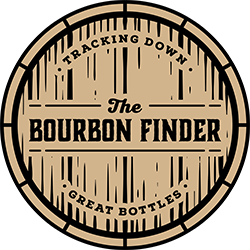 Our grading system: As mentioned in our About Us page, we're excited to share bourbon with our friends, family, and readers. There are enough critics, cynics, and curmudgeons in the whiskey world as it is, so our goal is to foster the bourbon community in a positive way by bringing fun and entertaining content whenever possible–as such–we decided that applying precise scores to whiskey was simply too serious for us (and didn't accurately showcase variability in taste from day to day). We use a simple grade school system to apply a grade to the whiskeys we review because we feel it is indicative of the whiskey's grade for us on that particular day. A grade of a "B" today may very well be a "B+" or even a "B-" on another day, so rather than focusing on a precise score today that may not stand the test of time, we are just sharing our overall grade of that pour for that one tasting. Pour a bit and enjoy, friends, these are the good old days of whiskey!